Archive for August, 2005
Short film from a section of the script on a genetically enhanced future.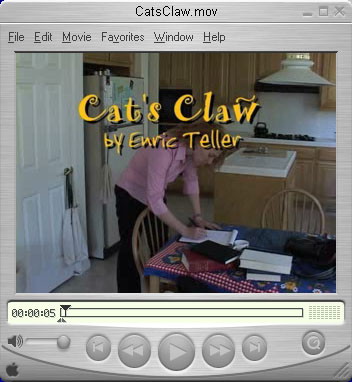 A short film for the Shelton Directing Actor's class in May, 2004. Ryanne's Update, Blah Blah Blah vlog of her kitty eating lettuce (at end of movie) reminded me of this film.
I've transferred all my Blogger entries to WordPress. I did the transfer manually, so if anyone notices an error in their entry, please email me.
I'm using the Clean Breeze theme which I find quite nice and capable.
Well, it's getting late and time I signed off.
;),
Enric
On Friday, August 12th I went to the Afro Arts Festival in the Fillmore district of San Francisco. I shot video of the space, interviews and introductions by the artistic director, Thomas Robert Simpson. Unfortunately I did not get approval to shoot the performances which were o exceptional and overall thrilling.
The artists were: Lawrence Beamen, a baritone singer who sang spirituals focusing on the works of Paul Robeson. The extraordinary soprano Rachelle Perry-Ward who sang from Mozart's "Don Giovanni", Bizet's "Carmen", Leoncavallo's "Pagliacci" and Verdi's "Aida." Mia Paschal performed a section from her one woman show, "some life", on going to a barbecue in the Potrero Hill district of San Francisco. Shanique S. Scott performed her piece, "Prisons", on a woman attaining personal freedom. And Robert Henry Johnson performed his "Othello Papers", a fascinating combination of five Shakespearian characters interacting in the present day.
This is a short adventure film created at the CinemaSports San Francisco, January 15, 2005 film event. And the third film our group, The Haphazards, made — we formed on April 3, 2004 haphazardly from those showing up to be involved without a group 🙂
In lieu of a current video, I'm putting up a short film I did at San Francisco City College in the Film Lighting class, "Cat Nap." It was shot with their silent 16 mm film camera, the music composed by a friend.
🙂